BBC Creative Careers Day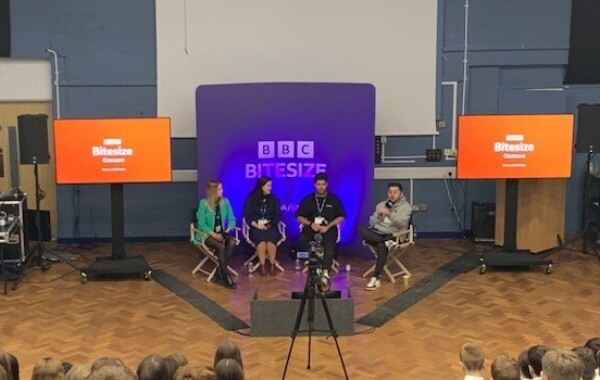 January 20, 2023
On Thursday this week we welcomed the BBC into Robert May's School! The set up was impressive. They brought six employees including a producer, two technicians and the Kiss FM DJ, Alex Mansuroglu as the presenter.
Also present were three guests who were interviewed about their careers. The purpose of the day was to showcase some of the creative jobs available locally. The three guests all worked within a few miles of Basingstoke and worked in very different sectors.
KJ Saneinia – works as a graphic designer and runs his own Accents clothing brand
Genevieve Touzin – is Managing Director of Face TV along with an extensive career in strategic marketing
Ellie Cleverley – in the middle of a Journalism apprenticeship for the BBC
The session was a mix of interviews and videos and was fascinating. Our Year 8 and Year 9 students were engaged throughout and there were some insightful and interesting questions at the end of each session.
Our thanks go out to the BBC and the guests for an excellent day