Student Wellbeing
Mental Health and Wellbeing
At Robert May's School, we recognise that positive mental health and wellbeing are essential to the development of thriving and successful students. It is therefore vital to our aims as an organisation that we provide high quality mental health and wellbeing support.
We aim to ensure that our school:
reduces the stigma attached to mental health issues and promotes positive wellbeing in all students
provides a secure environment that encourages openness and trust
can respond effectively to concerns about students' mental health
embeds the skills students need to make good decisions about their own mental health and wellbeing
offers comprehensive pastoral and medical support that is accessible to all students
encourages students to seek support or assistance and report concerns about others
provides guidance and training to staff to support and care for students
Providing a Network of Support
In addition to supporting individual students with mental health and wellbeing concerns, Robert May's School will commit to making sure that all students can access a cohesive network of pastoral and medical services. These include:
our pastoral team
the medical room, which is open from 8.25am to 2.55pm
appointments with ELSA
appointments with the school counsellor
Wellbeing Ambassadors, who are trained to support their peers
The School also works closely with external agencies, who students can be referred to for support during or outside of the school day.
ELSA (Secondary) - Link to an information leaflet will be available soon
Counselling - Link to an information leaflet will be available soon
Canine Assisted Learning - Visit their website for more information. You can see some photos of visiting support dogs in the photo gallery below!
---
Mental Health First-Aiders - Further information to be added soon!
Name & Role
Picture
Location
Interesting fact

Mrs Vicky Steele

Deputy DSL
(Designated Safeguarding Lead)

Admin Office by
Heads offices

I spent 4 months in Malawi teaching English to students where I tried their local 'delicacy'; boiled mouse!

Mrs Ashley Ellison

AAHT - KS3

Office - opp H4
to follow...

Mrs Abigail Gray

Director of Inclusion

RP Office
to follow...

Mr Phill Holt

Student Support

Student Support

(between DT1 & DT4)

I love to ride motorbikes and like to get out on mine when the sun is shining!

I also love dogs and I have a British Bulldog called Winnie

Mrs Jo Lochman

Home School Link Worker & Student Support

Student Support

(between DT1 & DT4)

I've attended over 20 music festivals and love to dance!

I have an Old English Sheepdog called Rudi - who is the size of a small pony!

Mrs Karen Davison

ELSA

Office by H1 / opp IT Support
I was an RSPCA Inspector for 12 years and love animals - my favourite animal is the wolf

Mrs Amie McDonald

BACP
Registered Counsellor

Next to IT Support

I was part of the 1st all female team to raft the Zanskar River in the Himalayas

Sarah Morrison

BACP
Registered Counsellor

To follow!
Next to IT Support
I play in a recorder group called the "Tootlers"
---
Wellbeing Ambassadors - Our Wellbeing Ambassadors are a fantastic group of students from Year 9 and 10 who have been trained to help promote awareness of how we can all support good mental health. They provide mentoring for students and deliver assemblies and tutor time activities.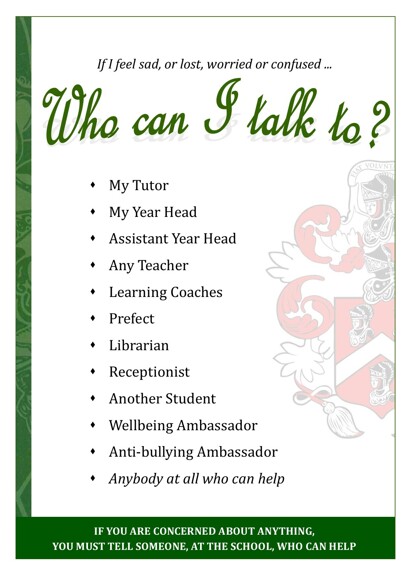 ---
Anti-bullying Charter
All students in Year 7 sign up to our Anti-bullying charter by decorating a paper hand and adding it to the charter which is displayed in tutor rooms.
---
Inspirational Stories:
On 14th November 2023, we were fortunate to have Ben Smith visiting us to speak to students as part of our focus for Anti-Bullying week.
Ben's story is one of triumph over adversity, it inspires and motivates all ages. Perfectly pitched, Ben's honest and often raw story telling focuses the talk on his life story. Covering subjects like bullying, growing up, LGBTQ+, suicide, challenges, overcoming adversity and mental health. Ben is very open, honest, raw and at all times relatable. He uses appropriate humour and is extremely eloquent in the way he delivers his talks, connecting straight away with the audience and leaving them hanging on every word.
Ben is a social entrepreneur, mental health charity founder, award winning global adventurer, fundraiser, author and inspirational speaker. From attempting suicide twice to running 401 marathons in 401 days, we challenge you not to find something in Ben's life story that isn't relatable.
---

Quick Links: Signposting for Mental Health and Wellbeing Support