Catering
Catering services at Robert May's School are delivered by Caterlink, who embrace using natural ingredients, seasonal produce and ethical trading with many suppliers. Meat, fruit, vegetables and bakery is all sourced from suppliers as close to the school as possible.
Menus are refreshed every term to ensure they reflect the changing seasons and trends from the high street. 95% of all food served is freshly prepared from scratch on site by the catering team. Look out for special offers and promotions throughout the year. We are also proud to say all our meals are nutritionally compliant with the Government Standards for Food Served in Schools.
---
Menus
Current Caterlink Menus (Until October 2023)
All meals are served from the main kitchen with the addition of 'The Café' and the Courtyard Pod, which are open at break and lunch. The 'Pod' is very popular with students and serves 'grab and go' items for those who need to get to lunchtime clubs or to get something to go with their packed lunches.

Catering Price List
All food and beverages have displayed prices. The current price list is available below.
---
Caterlink Marketing Information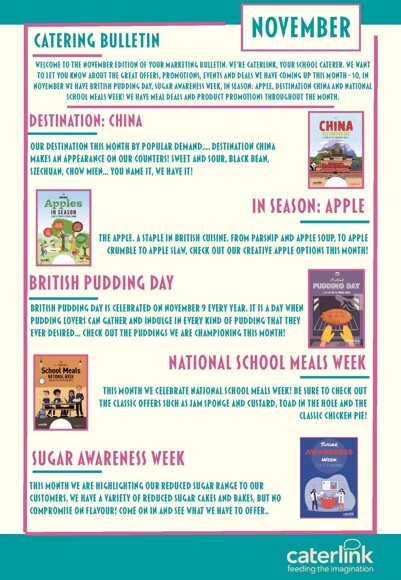 Allergies and Intolerances
We are committed to working in partnership with our catering provider and providing meals for children needing special diets for medical requirements where possible. Therefore if your child has an allergy, please complete the form and return it to the school reception to be passed on to the catering provider.
Payments
We operate a cashless catering system, which uses biometrics. For students who prefer to have a card, this will be provided to students on request by the school, however replacement cards do have a fee.
Students choose their meals & snacks and take the items to the till points where they are identified by way of biometric fingerprint recognition technology. The till point then electronically shows the till operator a photo of the student as confirmation of identity and reported allergens, the student then purchases their meal, as long as they have enough money in their account to cover the cost of the items selected.
You can top up your child's account using the secure ScoPay system. For more details please visit Scopay here. The ScoPay system allows parents to see what their child/(ren) purchased and we encourage you to discuss with your child the importance of choosing healthy options.
The student accounts can also be topped up at school using coins or notes at machine in the Dining Hall. Please note your child's account must be kept in credit at all times and students and parents can check their balances easily.
Please be aware that there is a £5 a day spending limit on all biometric accounts. This means that your child can only spend up to £5 per day even if more funds are available. If you feel this is not sufficient please contact the school.
Free School Meals
We know that having a nutritious meal during the school day is important for children's health, wellbeing and learning – and we want to ensure that all children who are eligible for free school meals benefit from this scheme.
If you think that your child(ren) may be entitled to free school meals then you can make an application by following the link via Hampshire County Council here.
Further Information on eligibility criteria can be found on Hampshire County Council website here
Once your application has been approved, the council will inform the school and we can then start providing free school meals for your child(ren). We treat all recipients with complete discretion.
Students entitled to Free School Meals will have their daily allowance (currently £2.60) added to their account. However any unused Free School Meal allowance will be removed from the accounts as soon as lunchtime is over.
We are here to help, so contact us if you have any queries or concerns you would like to discuss directly with the school.