Extra Curricular
"Opportunities to develop new interests and passions are plentiful"

OFSTED 2022
After School Activities
After school activities take place every day! Students are welcome to turn up to whichever club they wish to (with the exception of those that are stated 'Invite Only' or selected groups such as Music or performance rehearsals).
Where a scheduled club is not due to run, we aim to get messages out via notices delivered during tutor time, and on social media & the website. If a club does have to be cancelled at short notice (e.g. due to staff illness), we will direct any students staying behind to other available clubs running that day.
Please see below our current timetable:
Clubs and After School Activities - AutumnTerm 2023
For more information on Music lessons available at RMS,
Please go to the Music Dept page within Curriculum>Subjects
---
Students that want to stay for an extra curricular club after school have the opportunity to catch a late bus on Mondays, Wednesdays & Thursdays, which leaves school at approximately 4.15pm.
Bus passes for required days of each term must be purchased in advance through the late bus pass portal.
Click here to see the RMS Late Bus route
Click here for Late Bus Terms & Conditions
---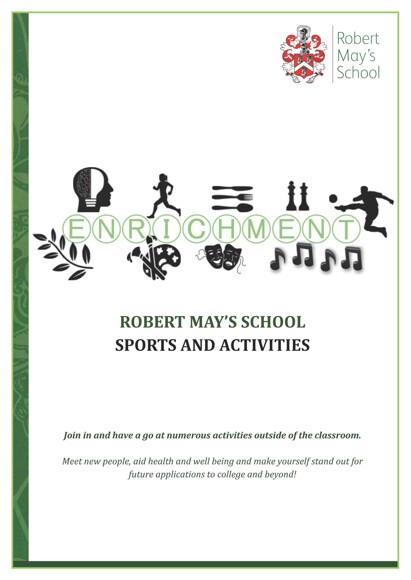 Click here for our Enrichment - Sports and Activities booklet
---
Feedback from RMS Parents:

---

Being involved in RMS productions has made him feel more embedded in the school community and opened up a whole new friendship group to him"

---

"[He] very much feels part of the RMS community and has pride in being so. It's everything good about education!"