Pumpkin Competition Winners Announced!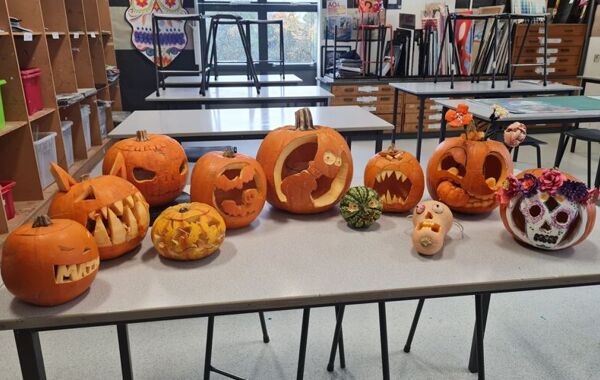 October 21, 2022
We had some amazingly creative and spooky entries for our House Pumpkin Carving competition and are pleased to announce the Winners and Runners-up for each Year Group.
All entrants received 30 House Points, Runners-up received 100, Year group Winners 250 points and the overall winner received a whopping 250 House points!
Runners Up for each Year Group are:
Year 7 - Jessica R
Year 8 - Tyler R
Year 9 - Freddie B
Year 10 - Jacob V
Winners for each Year Group are:
Year 7 - Jess F
Year 8 - Jennifer D
Year 9 - Mia S
Year 10 - Holly T
Our Staff entry Winner was Mrs Mullan
Our Staff entry Runner Up was Miss Harding
Our overall Winner, receiving 250 House Points is...... Mia S!
Photos of all the amazing pumpkings can be seen below.
---
House Point Updates!
House-competition-points-Autumn-Pumpkins.pdf
Current House Leaderboard (Totals update 21st Oct 2022)
| | | |
| --- | --- | --- |
| HOUSE | POINTS | POSITION |
| JUBILEE | 250 | 1 |
| CROWN | 240 | 2 |
| CHINOOK | 220 | 3 |
| ROSE | 205 | 4 |
| CASTLE | 185 | 5 |