Sports Champions of The Year 2022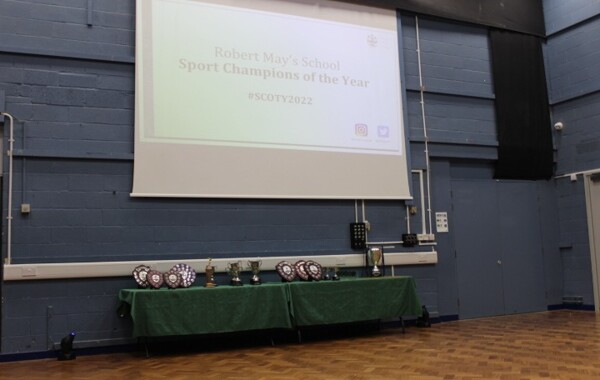 July 21, 2022
On a very hot Tuesday evening, the PE Department rolled out the red carpet to celebrate the sporting successes of Robert May's School students for this academic year.
The Sports Awards is a chance to showcase and highlight the students and teams that have performed brilliantly throughout the year both inside and outside of the classroom. Each year this is an extremely hard process to shortlist students to be nominated for each award as we have so many amazing students! This year the PE department fulfilled 246 fixtures so as you can appreciate, finding a shortlist amongst the many different teams and students for some of the awards is always a very challenging task.
We were honoured to have been joined by Kate Grey, a paralympic swimmer, who spoke to us about her journey into the world of swimming and how she made her way to The World Championships and then onto the Beijing Olympics! I am sure that those who attended will agree that Kate was truly inspirational, her story makes us realise that anything is possible as long as you give it your all. It also teaches us that you may not always get what you work really hard for but that does not mean that you are a failure, she said to us that as long as you work to your 100% then you have done yourself proud. Her final words were to dream big! We hope that all of our students went away from the evening thinking that anything is possible and we hope this will spur them on to have another brilliant year next year.
We hope that all of those parents, carers and students that attended enjoyed the evening and we can't wait for next year's celebrations.
Your winners were as follows:
Summer Team of the Year:
Year 8 Boys Track and Field Cup Team
Curriculum Time Award:
O Hibberd
KS4 Contribution Award:
H Staton & J O'Callaghan
KS3 Extra Curricular Award:
L Mann & S Fish
Elite Performer Award:
H Platel
Winter Team of the Year:
U16 Girls Football Team
House Cup:
Chinook
Liz Jukes Lifetime Achievement Award:
S Saayman & D Shattock