F1 in Schools at Stanhope-Seta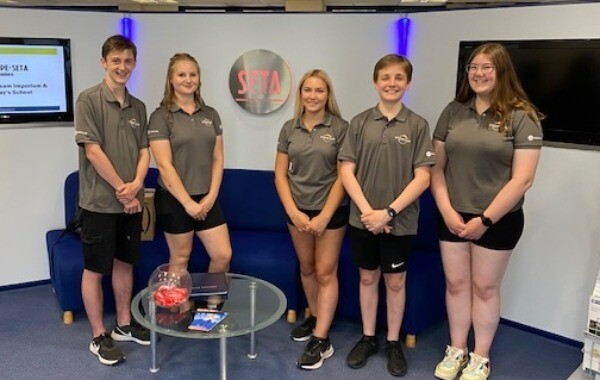 July 21, 2022
Stanhope-Seta hosted a F1 in Schools Night this week. It was an amazing event, and huge thanks go to everyone involved.
Mr Mylrea, Director of Research & Development at Stanhope-Seta commented to say "Everyone here was buzzing afterwards. I cannot fault the commitment of your staff – not only did the evening go well but their enthusiasm and professionalism was first class, and they probably didn't get home until 9pm. We had to make a car (1 hour) do a technical drawing and complete a quiz, it was the racing where everyone got several goes at racing their car. Some staff brought their children in – so it was a real mix of ages. A brilliant evening"
It's been an exciting time for Team Imperium as they got to travel to Seattle to promote F1 in Schools through the ASTM (American Society for Testing and Materials) and do a presentation in front of 60 people from all walks of science.
Mr Mylrea said "It has had a motivational impact for both our company (who sponsor the team) and ASTM. This is such a vital STEM opportunity for children/young adults and especially girls. So a big thank you – and long may your world champion winning program continue"
Katharine E. Morgan, President of ASTM (American Society for Testing and Materials), had commented she was delighted to hear about their experience and was very interested to see if this is something that holds more opportunities for ASTM and students alike.
A big Thank you to Mr Mylrea and ASTM for their support and encouragement, and to Mr Cain and the Imperium Team for their hard work and professionalism.