Sports Day 2022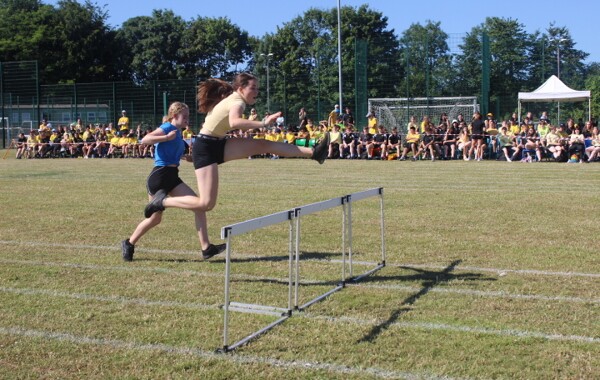 July 15, 2022
Last week saw the conclusion of our House Sports Week with our House Sports Day, this was a great occasion for all involved.
Sports week saw students compete in teams for ultimate frisbee, bowls and tennis as well as individually fighting it out for as many points as possible in the athletic field events. Going into Sports Day, Chinook House were well out in front and it looked as though they could not be caught. The leader board was ever changing over the course of the morning with Rose House flying up the leader board due to their superiority in the hurdles races. Chinook however, were yet to be knocked off of top spot.
As Sports Day came to it's conclusion we saw even more of a change in points through the year groups relay races, students showcased great teamwork and communication skills to get the batons around the track safely. The very final event saw the staff house relay, the noise that students created when cheering their teachers on was incredible. The race saw Mr Parsons fly out of the blocks and take an early lead for Jubilee House with the remaining houses in close contention. Heading into the final two baton changes, Crown House were chasing down Jubilee House, closely followed by Rose. As the batons were passed over for Crown House, Mrs Hazell was just ahead of Mr Maliphant who was team Jubilee. It was clear that these two were fighting it out for first and second. Mrs Hazell did a brilliant job of holding Mr Maliphant but with 10 metres to go Mr Maliphant moved ahead to take the gold for Jubilee, Mrs Hazell crossed in a very well deserved second and Mr Holt bought the baton home to take third place for Rose House.
Congratulations to all of those who took part throughout the week and did your bit for your house, you were all brilliant! Well done to this years house winners of Chinook House......will they take the cup again next year?!