Trust Board
The Governing Body's Role and Responsibilities at Robert May's School
"Trustees and leaders are resolute in their ambition for pupils"

OFSTED 2022
Although volunteers, Trustees at Robert May's School take their role very seriously and undergo a thorough recruitment process. We have high expectations and are committed to the school and its community. We want the best for all our students and staff.
We are here to:
Ensure the school has a clear vision, ethos, and strategic direction
Hold the Headteacher to account for educational performance and the performance management of staff
Ensure that the education the school provided has a positive impact on all its students
Ensure resources are well managed and that money is well spent (including the pupil premium and catch-up funding)
Ensure we fulfil statutory duties
Promote the welfare of our students and staff
Ensure that safeguarding is a priority and effectively managed
Following the challenges of the pandemic we are also checking the impact of Covid 19 on pupils' learning and wellbeing.
To do this we hold a series of planned meetings through the academic year.
We have excellent attendance and participation from all seventeen trustees when we meet twice a term. Every trustee brings a different strength to the board so we can be effective in challenging school improvement and support the Headteacher and her team. Our focus is always on the educational performance of pupils, their safety and wellbeing, their special needs, safeguarding and the impact of Covid 19. We regularly review our own effectiveness and impact on the school through self-evaluation.
Information is provided for our meetings by the Headteacher and Senior Leaders. We also consider reports from other sources as external verification about the school and we discuss the outcomes of pupil, staff and parent questionnaires.
In addition, we have an annual monitoring plan that enables us to have 'first- hand' opportunities to see the School Improvement Plan in action and to gather outcome evidence via our linked roles and school visits.
Ideally these meetings would be face-to-face and give us an opportunity to talk to teachers and pupils, but following the restrictions of Covid and depending on circumstances, we are using IT to facilitate virtual meetings which still give the opportunity for good discussions.
We also ask link Trustees to ask in depth questions, on behalf of the trust board, around statutory areas of our responsibilities - Safeguarding, SEND, Looked After Children, Careers and Student development, Progress, Curriculum provision, GDPR and Student Voice.
Our committees include, Head and Chairs Group; Resources, Risk and Audit; Curriculum and Pastoral; People, Pay and Performance and the Headteacher's Performance Management panel.
In order to be effective, trustees train during the year on many aspects linked to our roles. A particular focus is safeguarding so that we are up to speed with current legislation. On-going safeguarding updates and training led by the school's Designated Safeguarding Lead helps us understand the national and local challenges faced by our pupils and makes us all aware, "It could happen here".
If you have any questions for the board please contact the Chair of Trustees, Mrs Anna Rigby, using the email address clerk@rmays.com

Please also refer to the Governance information pages, which contain information relating to the Academy Trust and its governance arrangements: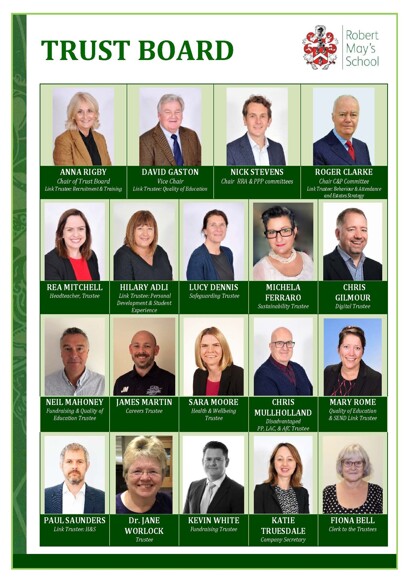 ---
Trustee Vacancies
For information on current Trustee Vacancies, please click here to go to our 'Working with Us' page